Nowadays, the security provided by electronic locks extends from the general public's protection to the security of private property. These locks, like all electronics, serve a variety of purposes. Electronic locks have been used for anything from homes to commercial buildings. However, are you familiar with electronic locks? Keep reading this post and learn more about electronic locks.
What Are Electronic Locks?
Electronic locks are advanced locking systems designed to grant access using electronic verification methods instead of traditional keys. These locks rely on various technologies, including keypads, biometrics, and Bluetooth, to authenticate users and permit or deny entry to a secured area.
Advantages Of Electronic Locks
Electronic locks provide various benefits that are gaining popularity among households and businesses alike. Here are some key advantages as the following:
Enhanced Security Features
One of the most significant advantages of electronic locks is their heightened security compared to traditional mechanical locks. Electronic locks utilize advanced technology and encryption methods to protect against unauthorized access. They are more resistant to lockpicking, bumping, and other common lockpicking techniques used by intruders. Some electronic locks also have features such as alarms like the Be-Tech electronic lock, which activates when someone tries to force the lock open.
Convenient Keyless Access
Electronic locks eliminate the need for physical keys, providing keyless access to your home or property. This convenience means you no longer worry about losing or misplacing your keys. Instead, you can use other access methods such as a PIN code, fingerprint scan, or smartphone app to unlock the door.  This makes access management more accessible, especially when granting temporary access to guests, service providers, or housekeepers. However, Be-Tech electronic locks also be equipped with physical keys, which can also be unlocked in an emergency.
Integration With Smart Home Systems
Electronic locks can interface easily with smart home systems, giving a new level of convenience and control. You may remotely operate the lock from your smartphone or tablet by connecting it to a smart home hub or using connected devices. This means you can lock or unlock your door from anywhere, receive real-time notifications on lock activity, and even monitor who enters or exits.
Types Of Electronic Locks
Electronic locks come in various types to cater to different needs and preferences. Here are some common types:
Keypad Locks
Keypad locks are among the most common types of electronic locks. They feature a touchpad with a numerical keypad where users enter a unique PIN code to gain access. Keypad locks are simple to use and do not require any additional equipment or accessories to operate. Because of their ease of use and security, they are widely utilized in both home and business settings.
Biometric Locks
Biometric locks utilize unique biometric characteristics, such as fingerprints, for access. These locks offer a high level of security since each person's biometric data is distinct. Biometric locks are widely used in high-security areas, such as laboratories, government buildings, and research facilities, but they are also gaining popularity in residential applications due to their convenience and enhanced security.
Bluetooth Locks
Bluetooth locks allow users to control access using their smartphones or other Bluetooth-enabled devices. These locks often come with dedicated mobile apps that allow users to lock or unlock the door remotely, manage access permissions, and receive activity alerts. Bluetooth locks are popular among tech-savvy homeowners who want to integrate their smart home devices seamlessly.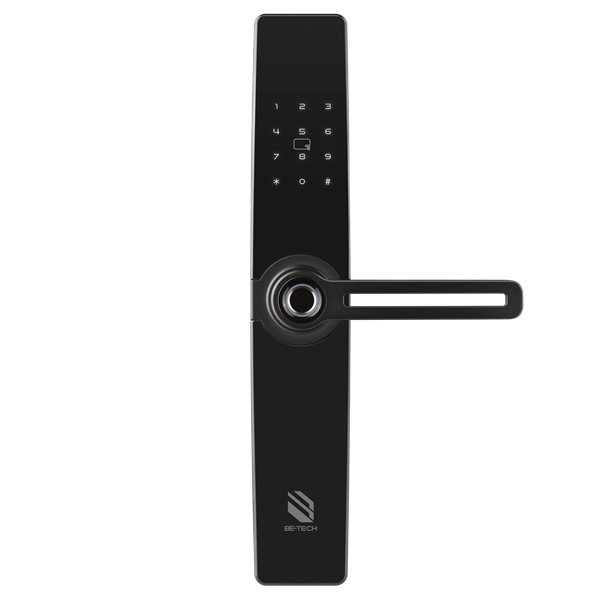 Factors To Consider Before Purchasing Electronic Locks
Before purchasing an electronic lock, consider the following factors to ensure you make the right choice:
Compatibility With Existing Doors
The most important thing to do before purchasing an electronic lock is to check that it is compatible with your existing doors. Different locks are designed to fit specific door types, such as wooden, metal, or glass doors. Verify that the lock you choose is suitable for the type and thickness of your door.
User Capacity
Consider the number of users that the electronic lock can support. Some locks limit the amount of codes or fingerprints that may be stored. Choose a lock with enough user capacity if you need to allow access to several people.
Security Features
Different electronic locks come with various security features. Look for locks with anti-tamper mechanisms, built-in alarms, or automatic locking features. These security upgrades can add an extra layer of safety to your property.
Ease Of Use
Opt for an electronic lock with a user-friendly interface. The keypad or biometric scanner on the lock should be simple to use for authorized individuals, reducing the possibility of mistakes or delays in getting entry.
Backup Options
In case of technical malfunctions or power failures, having backup options is essential. Some electronic locks have mechanical key overrides or backup battery power, allowing you to get access even in an emergency.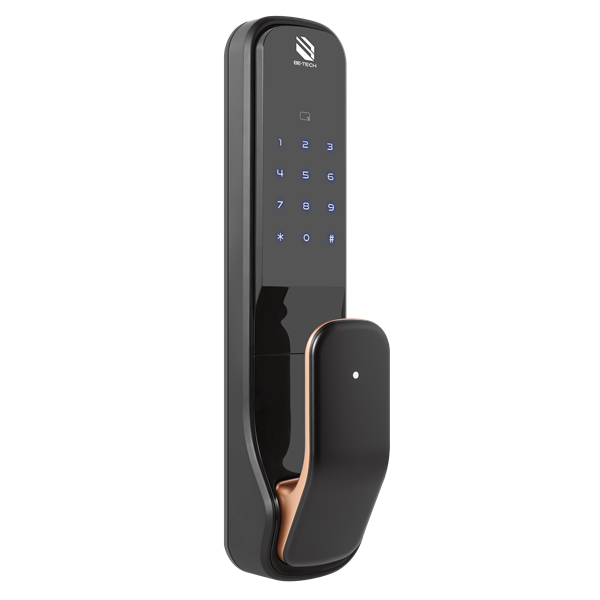 Be-Tech: Top Electronic Lock Brands In China
After considering the above factors, it is also important to choose a trustworthy electronic lock brand. In 2010, Be-Tech was named the top electronic lock provider in China's hotel business, and the Asia Pacific Hotel Association endorsed the company.
Founded in 1992, Be-Tech is the world's leading supplier of smart door control integrated solutions. As a leading smart lock manufacturer, our products are suitable for various industries, including smart deadlock lock, fingerprint lock, key card lock, and wifi lock.
In addition, we have a large-scale smart lock production base of 30,000 square meters and have established a smart lock testing center to conduct high-standard and strict inspections on the products produced. Our main products have passed CE, RoHS, and UL certifications, and we are one of the few brands in the smart lock industry that has passed 800,000 BHMA standard cycle tests and UL 3-hour fire tests.
Whether you're looking for an affordable smart lock for your home or a high-security smart lock for a commercial building, we're your best choice.
Conclusion
Electronic locks have revolutionized the security industry, providing a seamless blend of advanced security features and convenience. From keypad locks to biometric and Bluetooth-enabled options, these locks cater to diverse security requirements.
If you are looking for a smart door lock solution for Real Estate, Hospitality, Factory, and Education, contact us for more product details without hesitation now!