Any homeowner or landowner's main priority is to keep their property secure. As a result, having top-notch commercial door locks that offer security becomes essential. These tools are essential for preventing burglars or other problems.
Commercial door locks come in a variety of varieties, each with unique features and benefits. Finding the best commercial door locks, however, can be challenging. It is vital to know which commercial door lock will suit your demands based on the type of business you operate and the level of protection desired if you intend to purchase one. In today's blog, we are going to talk about the best commercial smart lock for your business.
What is A Commercial Smart Lock?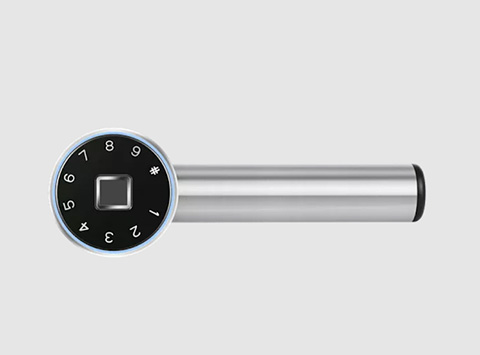 An electromechanical lock system with smartphone-powered locking and unlocking capabilities is known as a commercial smart lock, and it is used on doors in commercial buildings.
Commercial smart locks are specifically made to take the place of traditional locks that need actual keys. Instead of using keys to unlock doors, landlords, managers, employees, and tenants can use their smartphones or input PIN numbers.
Commercial smart door locks used to be mostly reserved for high-security businesses. However, they are now present in all kinds of commercial buildings. For increased convenience and security, retail company owners could choose to use storefront smart locks instead of conventional door locks to secure their establishments.
Property owners can check audit logs of every door entrance activity to make sure that only authorized staff are entering the premises at any given moment thanks to smart locks' internet connectivity. Additionally, they won't need to carry real keys around to access their building.
Types of Electronic Commercial Door Locks
Users of commercial keyless electronic locks can open the door without a physical key by using the lock. Most electronic locks are powered by electricity, and some of them even have internet connections. As a backup access mechanism, some keyless electronic locks do, despite their name, feature a keyhole for conventional keys. The following are three popular kinds of keyless electronic business door locks:
1. Commercial Keypad Door Locks
Users can unlock a business door lock with a keypad by entering a PIN code rather than a real key. Most of these locks have a touchscreen interface with numbered buttons or a keypad with numbered buttons integrated into the lockset. Either on-site with the lock hardware or remotely with the software will have to be used in order to program PIN codes with the lock.
2. Commercial Key Card Door Locks
Instead of utilizing a real key, a commercial key card lock enables users to open a door by scanning a programmed card. To transmit signals between the lock's reader and the user's card, the majority of key card locks employ RFID technology. An RFID reader is included inside the lockset. Each key card is programmed by the building personnel before being given to tenants.
A key card lock and a commercial key fob door lock system are very similar. The sole distinction is that users now scan a fob to enter rather than a card. Otherwise, how things work is unchanged.
3. Commercial Biometric Door Locks
Any lock with a biometric reader qualifies as a commercial biometric lock. With these locks, users may unlock doors by scanning their fingerprints or even their faces. High-security settings frequently employ biometric locks, although many consumers are concerned about their privacy.
4. Commercial App Controlled Door Locks
Commercial app controlled door locks such as wifi and Bluetooth locks can detect the presence of a person as they get closer to the lock with wireless technology. People can feel secure knowing that only those with the proper authorization can access the door thanks to smart locks that can only be unlocked if the security token is closed.
How Commercial Smart Door Locks Work?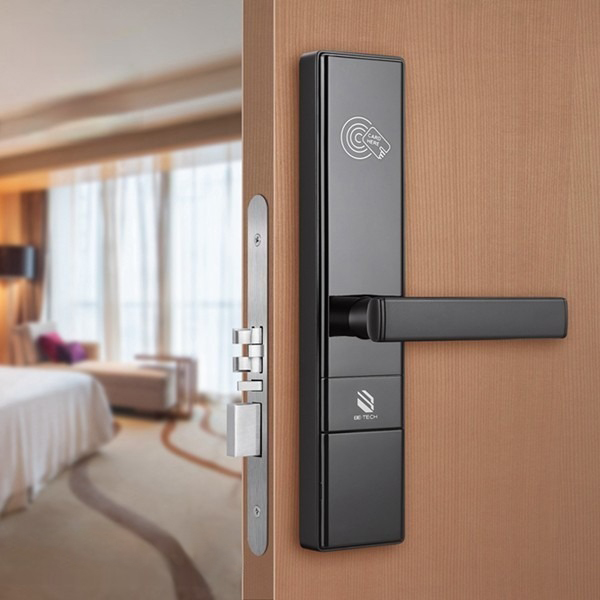 A commercial electronic door lock system employs a connected or wireless power supply to lock and unlocks the door as opposed to traditional door locks. Commercial magnetic door lock systems lock the door using a low-voltage power source. An authorized credential must be presented by the user in order to unlock the door and disengage the lock.
For instance, in a commercial key fob door lock system, the key fob transmits a signal to the locking mechanism, and when it receives authorization, the signal causes the door to unlock. A commercial real estate security management system is used to configure the commercial magnetic door locks.
Commercial smart locks are electromechanical locks that use cryptographic keys and wireless protocol signals to execute the locking and unlocking procedures. Commercial smart locks typically have Wi-Fi or Bluetooth capabilities, and they furthermore have the advantage of supporting virtual keys.
Keyless commercial door smart locks can be opened using a mobile phone app or Cloud Key credential in place of a physical credential. Being able to easily grant entry to visitors is another advantage of smart security door locks for businesses.
A smart lock for commercial doors can be set up to provide temporary visitor access with a digital credential or be controlled remotely, eliminating the need to hand out keys. For instance, even if maintenance or a vendor is not present, a security manager can easily activate the office smart lock to allow them access to the property.
Commercial electronic lock systems should also have built-in fail-safe or fail-secure technology in case of a power outage because they depend on the Internet and Bluetooth to operate. If there is a power outage, a fail-secure commercial door lock keeps the door locked, but a fail-safe commercial door lock unlocks to let anyone inside.
Commercial smart locks should, as a best practice, come with a backup battery to ensure that, in the event that the system loses power, the customer may still lock or unlock the door as needed. They might want to connect any electronic business door strike plate locks with a manual lock if their system doesn't have backup battery power.
Features of Electronic Locks for Commercial Doors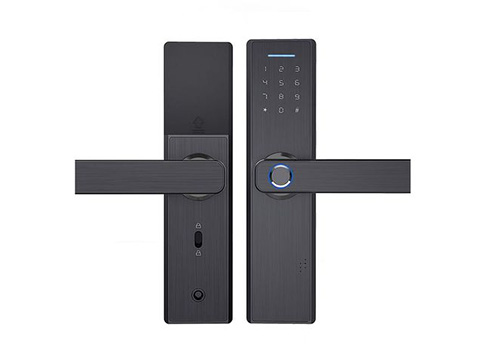 1. Cloud-based Management
Opt for a commercial smart lock system that can be controlled online. This implies that if tenants' access credentials need to be updated, neither you nor your personnel is required to visit the location. Instead, you may issue or revoke access permissions from any location with an internet connection by logging into an online dashboard.
Furthermore, cloud-based smart locks automatically update their software, ensuring that they are always using the most recent version. This also implies that anytime faults or problems occur, the smart locks will troubleshoot themselves.
2. Proptech Integrations
While practically all smart locks have a mobile app connection, some are more capable of integration than others. Pick a system that works well with the other proptech gadgets on your property, including the intercom at the front door and the smart lighting. By doing so, you may control every aspect of construction from a single hub.
When interconnected, the smart lock can activate other smart gadgets and automate functions like lighting when the office door is opened or closed. Such linkages improve the renter experience while also streamlining property administration.
3. Multiple Ways to Unlock
Yes, smart locks that work with cellphones do away with the need for actual keys. But what if your hands are full or your phone runs out of battery?
For this reason, you require a commercial smart lock system that supports several doors unlocking methods. The most recent smart locks on the market today have geofencing, which means your location will activate the lock. This is made feasible through a mix of Bluetooth, WiFi, cellular signal, and GPS.
The renters' daily life is made more convenient by having different ways to open doors with smart locks because they can enter the office at any time!
Where to Find The Best Electronic Commercial Door Locks?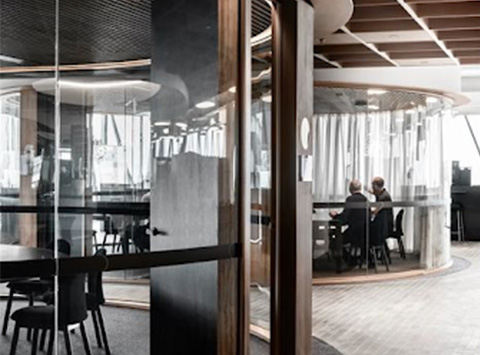 Be-Tech offers cutting-edge smart locks with modern, new designs that keep up with trends throughout the world. Since we work with dependable material suppliers, we can consistently increase the security of our products and the capabilities of our integrated management system.
We can get high-quality materials at a low price because of our advantages in R&D and quality control, which can be converted into competitive smart lock products and quick production cycles.
A maker of wholesale smart locks with modern and appealing designs that provide the highest level of protection is called BE-TECH. A wide range of smart lock systems, including wholesale wifi locks, smart door locks, electronic door locks, china hotel card locks, swipe card locks, biometric door locks, and RFID cabinet locks, RFID card hotel lock management systems are offered by smart lock manufacturers BE-TECH, a one-stop smart lock provider.
Our smart locks are created from the best materials for improved ergonomic designs with built-in systems to fulfill the needs of our clients in dealing with security problems. BE-TECH digital lock firm has been around for more than 30 years.
Can Commercial Door Locks Be Hacked?
Since smart locks rely on technology to connect to your home, this is a concern. The security of your office and its contents can be dramatically affected by how these smart locks operate and how sensitive they are to particular types of attacks.
Even though these locks are not completely secure, they are unquestionably considerably more secure than conventional locks. Although they are currently the greatest solution available, you will need to take further precautions and put other layers and security measures in place if you want to ensure that your home is totally secure.
People frequently overlook the fact that a smart lock is a miniature computer that may be hacked, like most smart gadgets. Hackers may gain access to your phone's data and gain entry, or if the lock is Bluetooth-enabled, they may gain access to the lock itself.
Security researcher Anthony Rose reportedly discovered a flaw in the Bluetooth authentication protocol used by a large number of smart locks in 2016, according to Hacker News. According to reports, this issue allowed hackers to easily unlock doors by gaining access to locks without any verification. So how does one hack a smart lock?
1. Bluetooth Sniffing
Since many smart locks use Bluetooth as their primary communication channel, it's crucial to understand how hackers can eavesdrop on this connection. They could be able to do this by utilizing any of a wide range of Bluetooth hacking tools, from very basic tools to more sophisticated equipment that is specially made for this purpose.
However, Bluetooth is a short-range communication standard, so even though this is conceivable. Therefore, in order to attempt to hack your smart lock, a person would need to be nearby the lock.
2. Wi-Fi Breaching
Wi-Fi is a typical method for hackers to gain access to your smart lock. Regarding the WIFI Smart Lock, Bitdefender reported one such instance. Certain weaknesses in the Wi-Fi connection your smart lock utilizes may be exploited by hackers. However, any malicious parties would have to be close to your home's network, exactly like with Bluetooth.
3. Outdated Software or A Companion Application
Each smart lock has a corresponding smartphone app that is used to operate it. Although this software is meant to always be updated with the most recent firmware, it occasionally isn't. Because some locks contain companion apps that are incompatible with more recent firmware updates, your lock may be open to hackers.
This is why the firmware on all of your smart devices must be constantly updated. By connecting to the lock's Wi-Fi, you can check to see if the firmware is current.
Conclusion
The safety of your employees and business property is a major concern as a business owner. As technology advances, new strategies for maintaining the highest levels of security and safety also emerge. The most recent feature that tenants want is commercial smart locks because of their dependability and simplicity.
Smart commercial locks' best feature is that they do away with the need for brass metal keys. Instead, they give residents the ability to use PIN codes or mobile devices to unlock doors. You can contact Be-Tech for the best quality commercial smart locks on the market.
Blogs you may be interested in: